Machine Man CD
https://www.undergroundtekno.com/en/product/machine-man-cd/6480
10.94€
1
01_intro-piano
180 bpm
00:00:55
2
02_lantre-de
180 bpm
00:01:00
3
03_clik-clak
180 bpm
00:00:52
4
04_dance-machine
180 bpm
00:01:05
5
05_prepare-to-die
180 bpm
00:01:12
6
06_reggae-core
180 bpm
00:00:59
7
07_macadam-western
180 bpm
00:00:59
8
08_just-little-beat
180 bpm
00:00:53
9
09_tourbillon-magic
180 bpm
00:01:03
10
10_weapon-of-ze-futur
180 bpm
00:01:01
11
11_dancing-to-the-live
180 bpm
00:01:00
12
12_the-saint
180 bpm
00:01:04
13
13_dolls-house
180 bpm
00:00:53
14
14_transcendance
180 bpm
00:01:03
15
15_outro
180 bpm
00:00:22
16
16_sois-maudit
180 bpm
00:01:31
We are pleased to present you the 'Machine Man CD' on wich Osmik, key figure of the Hardtek scene, distilled the best of his songs released in recents years, as well as unrealeased tracks, and all this in live please!
Worn by Fat rythmics, let yourself be guided by mental melody's and sounds from anywhere waching your brain!
An eclectic and evolving CD will take you from the hardtek to the Hardcore throught the reaggae without you perceive nothing! a real trip ! for a small price!
+ 1 Guigoo Narkotek Bonus Track
cheap postage price (3.59€ for europe)
TRACKLISTING:
01. Osmik - Intro Piano
02. Osmik - Lantre de
03. Osmik - Clik Clak
04. Osmik - Dance Machine
05. Osmik - Prepare to die
06. Osmik - Reggae core
07. Osmik - Macadam western
08. Osmik - Just little beat
09. Osmik - Tourbillon Magic
10. Osmik - Weapon of ze futur
11. Osmik - Dancing to the live
12. Osmik - The saint
13. Osmik - Doll's house
14. Osmik - Transcendance
15. Osmik - Outro
16. Guigoo (Narkotek) - Sois maudit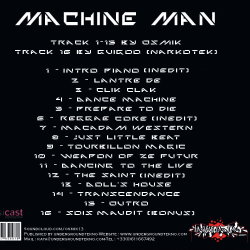 Customers who bought this product also bought
From the same Label
From the same Artists