Crime Wave EP
https://www.undergroundtekno.com/en/product/crime-wave-ep/8016
9.90€
1
crime-wave
44 bpm
00:01:56
3
trip-in-the-sahara
44 bpm
00:02:07
4
waiting-in-hell
44 bpm
00:02:04
A banging vinyl with good dark melodies and kicks that beat up.
A1 / Crimewave:
This explosive 200RPM Versus with neuro dark drum'n'bass sounds give the best of our two artists! A ragga sample in the break for a heavyer drop!
A2 / TRIP IN THE SAHARA:
This second hardtek track which rotates at 190 RPM is a mixture of oriental hypnotik melody and hip hop . Massive!
B1 / WAITING IN HELL:
The dark side of this 195RPM hypnotic track will seduce with it's piano melodies and intoxicating opera voice!
B2 / GLOOMY:
A Fat beat with an unhealthy melody straight out of a cemetery, noises in all directions, 100% Guigoo!
A colored marbled vinyl with a beautiful cover, Don't miss it!
See you in hell!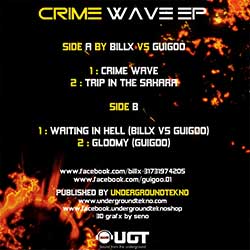 Customers who bought this product also bought
From the same Artists