Catch Me If You Can
https://www.undergroundtekno.com/en/product/catch-me-if-you-can/8423
29.90€
1
a1-long_time
172 bpm
00:01:31
2
a2-tek_n_reg
172 bpm
00:02:01
3
b1-friend_enemy
172 bpm
00:01:36
4
b2-tahiti_bob
172 bpm
00:01:41
5
c1-baddest_thing
172 bpm
00:01:31
6
c2-gimmi_some_bass
172 bpm
00:01:39
7
d1-praise_sellassie
172 bpm
00:01:39
8
d2tek_this_sound
172 bpm
00:01:39
9
e1-chatty_mouth
172 bpm
00:01:38
10
e2-king_haile
172 bpm
00:01:27
11
f1-marijuana
172 bpm
00:01:28
12
f2-babylon_boy
172 bpm
00:01:36
Here are 3 Hot raggatek vinyls on the last Guigoo 'Catch me if you can' collector Album.
On this 12 Tracks Vinyl Album, Guigoo combines his love for reggae-ragga sounds, with hardtek rhythms. Three distinct styles are represented here:
The Green vinyl more reggae tribe, characterized by reaggae roots instrumentals, percussions and hypnotic loops.
The Yellow vinyl is composed with original raggatek tracks made with 'dancehall' vocals .
The Red Vinyl is harder,it is a mixture of Frenchcore and Ragga.
The 3 vinyls are in a beautiful limited edition gatefold cover + stickers.
TRACKLISTING:
Green vinyl:
A1. Guigoo - Long time
A2. Guigoo - Tek'n reg
B1. Guigoo - Friend enemy
B2. Guigoo - Tahiti bob
Yellow vinyl:
C1. Guigoo - Baddest thing
C2. Guigoo - Gimmi some bass
D1. Guigoo - praise sellassie
D2. Guigoo - Tek this sound
Red vinyl:
E1. Guigoo - Chatty mouth
E2. Guigoo - King haile
F1. Guigoo - Majiruana
F2. Guigoo - Babylon boy
Exclusive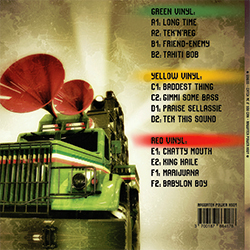 Customers who bought this product also bought
From the same Label
From the same Artists