Access Violation 06
https://www.undergroundtekno.com/en/product/access-violation-06/7193
9.90€
1
hardbass_radiation
44 bpm
00:02:33
2
loudfighters
44 bpm
00:02:32
---------------------------
Exclusivity Undergroundtekno!
The Access Violation 06 Guigoo and Billx disc is a hybrid between old school and new school hardtek a skeud unusual!
On A side, Guigoo put a hardtek track named 'parano': a bewitching oldschool melody carried by a galloping rhythm, a round and deep bass kick, and small 'parano' voices, special dedicace to paranoid!
On B1 'hardbass radiation' by Billx is a good mental track with a dry kick and electric bass, old school and cool at the same time!
On B2 'Loudfighter' by Billx: fat hardtek track with original dark drum'n'bass tendencies!
Don't miss it!
TRACKLISTING:
A . Guigoo - Parano (45rpm)
B1. BillX - Hardbass radiation
B2. BillX - Loudfighter
------------------------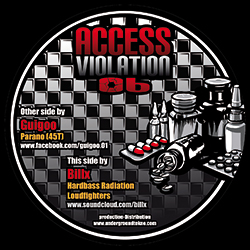 Customers who bought this product also bought
From the same Label
From the same Artists