Sonik Boom 09
https://www.undergroundtekno.com/en/product/sonik-boom-09/5962
9.90€
1
a1_crazy-pitch
180 bpm
00:02:30
2
a2_new-school-gabba
180 bpm
00:02:30
3
b1_rock
180 bpm
00:02:30
4
b2_long-road
180 bpm
00:02:30
---------------------------
Side A1, Crazy pitch by Guigoo (narkotek) is a track with a stupid melody extracted from his liveset, efficiency guaranteed!

Side A2, Weser (narkotek) is back with his own style! New school Gabba: Rare Track!

Side B1, Sick Hardtek track by Billx with rock sonoritys and dubstep breaks!

Side B2, Vandal (kaotik) will seduce raggatek lovers with his pure 'Long Road' remix, Fat track!

Red vinyl under colored cover!
TRACKLISTING: (if you want to buy mp3 tracks, click on tracks names below)
B1. BillX - Rock
.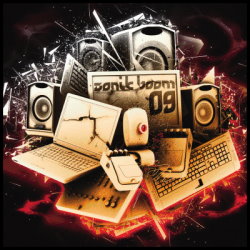 Customers who bought this product also bought
From the same Label
From the same Artists