Toxic Vibes 06
https://www.undergroundtekno.com/en/product/toxic-vibes-06/6558
14.90€
Notify me when back in stock
1
a1_virulent-heat
180 bpm
00:02:34
2
a2_violin-concept
180 bpm
00:02:26
3
b1_le-cousin-cletus
180 bpm
00:02:35
4
b2_repentance
180 bpm
00:02:46
LAST COPY !!!
-------------------------
TRACKLISTING:
A1. Alryk - Virulent Heat
A good track new school that goes in all directions with a few dubstepcore breaks!
A2. Poulos Uncloned - Violin concept
great tribecore track by poulos , good melody and violin intro
B1. Ratus - Le cousin Cletus
A galloping track with good vibes and good melody in the 2nd part of the song
B2. Sytri-x - Repentance
Track extracted from the album acid Sytri-x , instrumental with guitar!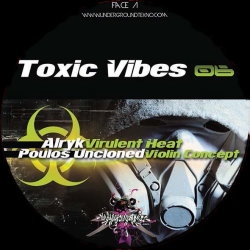 Customers who bought this product also bought
From the same Label
From the same Artists