Toxic Vibes 09
https://www.undergroundtekno.com/en/product/toxic-vibes-09/7184
9.40€
1
boxmusic
44 bpm
00:02:28
2
kdell-world-at-war
44 bpm
00:02:41
3
play-for-kill
44 bpm
00:02:37
4
talasemik-rocks
44 bpm
00:02:34
----------------------------
Exclusivity Undergroundtekno!
A nicely varied vinyl
A1, a stupid good track with bubbles by DJ meid!
On A2, Ratus put a good track with a good violin melody and hip hop breaks
On B1, a typical and melodic track by Wems
On B2, a tribecore melodic track by KDEL
TRACKLISTING:
A1. Dj Meid - Box musik
A2. Ratus - Talasemik rocks!
B1. Wems - Play for kill
B2. Kdel - World at war
----------------------------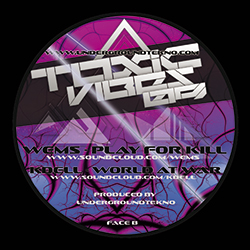 Customers who bought this product also bought
From the same Label
From the same Artists