Toxic Vibes 07
https://www.undergroundtekno.com/en/product/toxic-vibes-07/6680
14.90€
Notify me when back in stock
1
a1-christoliquid-lonelytek
180 bpm
00:02:11
2
a2-darktek-la-petasse
180 bpm
00:02:31
3
b1-anticeptik-edith
180 bpm
00:02:35
4
b2-sytrix-release-anger-now
180 bpm
00:02:55
Last copies!
With Lonelytek, Christolikid and Vinssouille give us a good melancholy remix, dynamic and clean!
Darktek 'la patesse' is a fast, happy debile track, we love it!
Anticeptik made a hardtek track with drum'n'bass sonority, fresh and clean!!
With his own instrumental style, Sytri-x made a crazy versus with boo at the mic!!
TRACKLISTING: (if you want to buy mp3 tracks, click on tracks names below)

A1. Christolikid vs Vinssouille - Lonelytek
B2. Sytri-X feat Boo- Release Anger now
.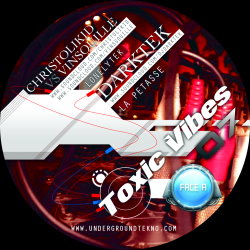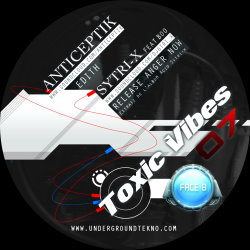 Customers who bought this product also bought
From the same Label
From the same Artists