Narkotek 20 Years Part 1
https://www.undergroundtekno.com/en/product/narkotek-20-years-part-1/10234
14.90€
1
guigoo-attention-danger
180 bpm
00:02:58
2
guigoo-nzt48
180 bpm
00:02:58
3
guigoo-tu-tiens-a-la-vie
180 bpm
00:02:53
4
guigoo-ya-plus-de-ballons
180 bpm
00:03:13
NARKOTEK 20 YEARS PART 1 BY GUIGOO
A Tribe, Acid Tribe and Hardtek Vinyl under a beautifull cover! Narkotek back to the old school!
You can ask Guigoo to sign the record (ask in the comments when you validate your order)
TRACKLISTING
A1 GUIGOO - YA PLUS DE BALLONS :
A 170 bpm Track with a good tribal rhythm, a fat kick, and 

old shcool synth!
A2 GUIGOO - NZT48
This acid tribe track will make you travel
B1 GUIGOO - TU TIENS A LA VIE
A 200 Bpm 100% Narkotek style Track!
B2 GUIGOO - ATTENTION DANGER
170 bpm Acid tribe with a TB 303, attention it gnaws the brain!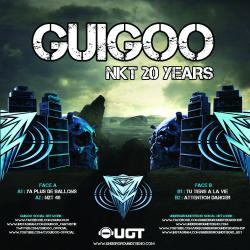 Customers who bought this product also bought
From the same Label
From the same Artists