Neurotrope 10
https://www.undergroundtekno.com/en/product/neurotrope-10/2896
19.57€
Notify me when back in stock
1
a1_deep-in-acid
180 bpm
00:01:31
2
a2_sr71
180 bpm
00:01:31
3
b1_modus-operandi
180 bpm
00:01:31
4
b2_into-the-crunch
180 bpm
00:01:31
5
c1_fractured
180 bpm
00:01:28
6
c2_a-moment-comes
180 bpm
00:01:28
7
d1_prof-barrabas
180 bpm
00:01:28
8
d2_x-citor-23
180 bpm
00:01:28
Mental acid tribe dancefloor machine, featuring a rare tune from Sensory Overload (live extract) and some good tunes from the nederlandish acid squads !
.
TRACKLISTING :
A1. Deep In Acid - les enfants sages
A2. SR71 - sensory overload
B1. Modus Operandi - emel
B2. Into The Crunch - mig & spacekees
C1. Fractured - alarach
C2. A Moment Comes - mono-amine
D1. Prof. Barrabas - diex
D2. X-Citor 23 - octodred
.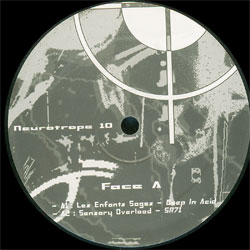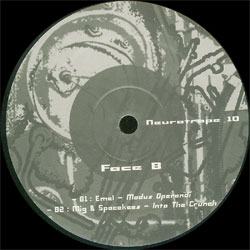 Customers who bought this product also bought
From the same Label
From the same Artists