Insurrekt 01
https://www.undergroundtekno.com/en/product/insurrekt-01/5739
10.20€
1
a_weapons-dump
180 bpm
00:02:21
2
b1_suspect
180 bpm
00:01:59
3
b2_coulport
180 bpm
00:01:53
--------------------------
Side A bring a long acid hard techno tune playable at any speed (our extract is 45_0, but it does well on 33 6 as well... And on both speed it's a superb track. B side stands one 2 step mental tune, witch is quiet rare and a breakbeat mental chilla. A good record, very high !
TRACKLISTING:
A . Autonome - Weapons Dump
B1. Autonome - Suspect
B2. Autonome - Coulport (2 Steps Closer)
.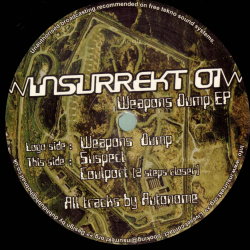 Customers who bought this product also bought
From the same Label
From the same Artists